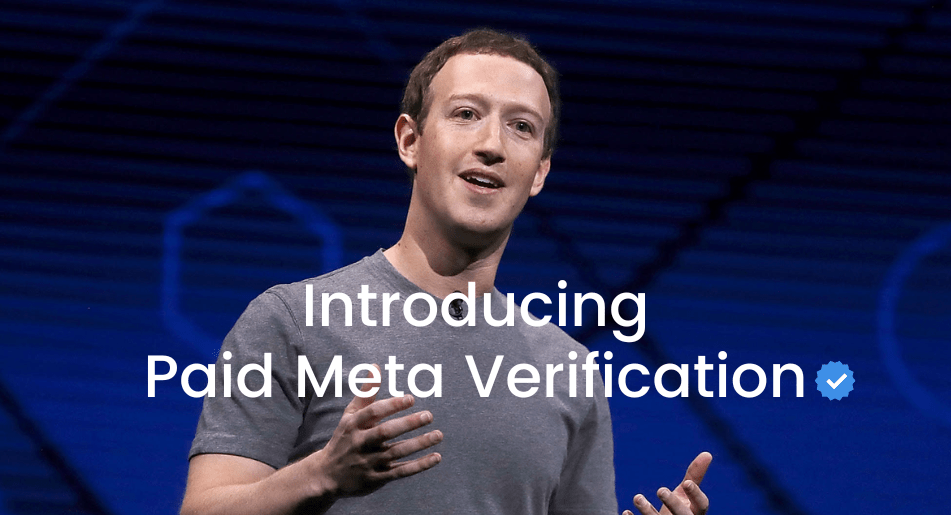 20 Mar

Facebook and Instagram Launches Paid Verification Service

Meta, the leading online platform for brands and businesses, recently announced the launch of their new Meta paid verification program. This program is aimed at providing a safe and secure way for customers to purchase products from verified sellers on the platform.

The "Meta Verified" program will start being tested in Australia and New Zealand this week, followed by additional nations soon, according to Meta, the parent company of Facebook and Instagram. On Sunday, CEO Mark Zuckerberg made the news on his Instagram page.

The monthly subscription service will cost $14.99 per month on iOS or Android or $11.99 per month on the web.
An Added Layer of Security?
The blue checkmark that many users have grown accustomed to seeing on social media accounts is comparable to the paid meta verification service. The new function, though, is intended to do more than merely mark a checkbox. It is meant to provide people a greater degree of confidence and comfort that they are dealing with a reliable company or brand.
Businesses and brands will pay a small price for the meta paid verification service, which will contribute to the security and confidence that users require when interacting with a business or brand on the platform. This fee will also assist in making sure that the procedure is secure and that companies and brands are adhering to the platform's usage policies.
The meta paid verification service is intended to provide businesses and brands with an additional layer of trust and security when engaging with users on the platform. This will help to ensure that users are interacting with legitimate businesses and brands and that their data is being used in a secure manner. This will also help to protect users from scams and other malicious activities
Is It Worth Paying for that Checkmark?
So is that monthly fee worth paying for? It depends on what you mainly use the platform for is. Bigger businesses who have a huge customer base should definitely shell out the almost $15/month especially if their industries deal with highly sensitive information such as customer data and their payment details.
For creators, it may work in their favor to also protect the content their create by ensuring that they verify their accounts, otherwise, someone can create a fake profile or page on their behalf and repost their works there. If they rely on their Page performance as their main source of credibility, then yes, paying this small fee might be worth it.
According to Meta's news page, here are the benefits of the Meta Verification:
A verified badge, confirming you're the real you and that your account has been authenticated with a government ID.
More protection from impersonation with proactive account monitoring for impersonators who might target people with growing online audiences.
Help when you need it with access to a real person for common account issues.
Increased visibility and reach with prominence in some areas of the platform– like search, comments and recommendations.
Exclusive features to express yourself in unique ways.
What if You Can't Afford The Monthly Rate?
What about smaller brands and even startup businesses? Well, there's always a risk, but at least for now, we think you can still wait on paying for this service. After all, being a start up means pinching off those monthly expenses as much as you can to maximize your budget. It is something to consider though along the way as you grow bigger. In the meantime, here are a few tips to promote safety on your Page, even without that blue checkmark:
1. Never ask for your customer's personal details via chat. Direct their conversation to an official website or email where they can send information securely.
2. Consider having an official website too. Never put all your eggs in one basket, and having a website ensures that you own that digital property and do not have to rely on Meta or any other social sharing platforms for your leads.
3. Use consistent branding on your published materials. Use the same tone, message style, colors, logo, fonts to promote consistency and provide reassurance to your audience every time they see your post.
4. Apply for that trademark, legally. Go to your intellectual property office and make sure to secure the rights to your logo, brand name, even tagline if necessary. You will need these government proof next time when you report another fraudulent page should the time comes.
5. Finally, always be on the lookout for fake profiles and pages and report them religiously to ensure that these will be taken down right away before it gets big. Search for your name, your business name, your brand name and report fraudulent accounts. Ask all your friends to report these fake pages as well to speed up the process.
In conclusion, the new meta paid verification service announced by Mark Zuckerberg is a great way for businesses and brands to provide an additional layer of trust and security when engaging with users on the platform. This new service will help to ensure that users are interacting with legitimate businesses and brands, while also protecting their personal data. The meta paid verification service will help to create a safer and more secure environment for users and businesses alike.
Attracting traffic is easy. Producing good content, on the other hand, takes time and effort. Online Philippines can help you create innovative high-quality content that drives traffic by offering affordable social media training to businesses and agencies of all sizes (small, medium and large). We do this by taking a deep dive into your organizations' target audience's goals and needs and applying this information to produce engaging and memorable stories online via blogs, images, videos and more.