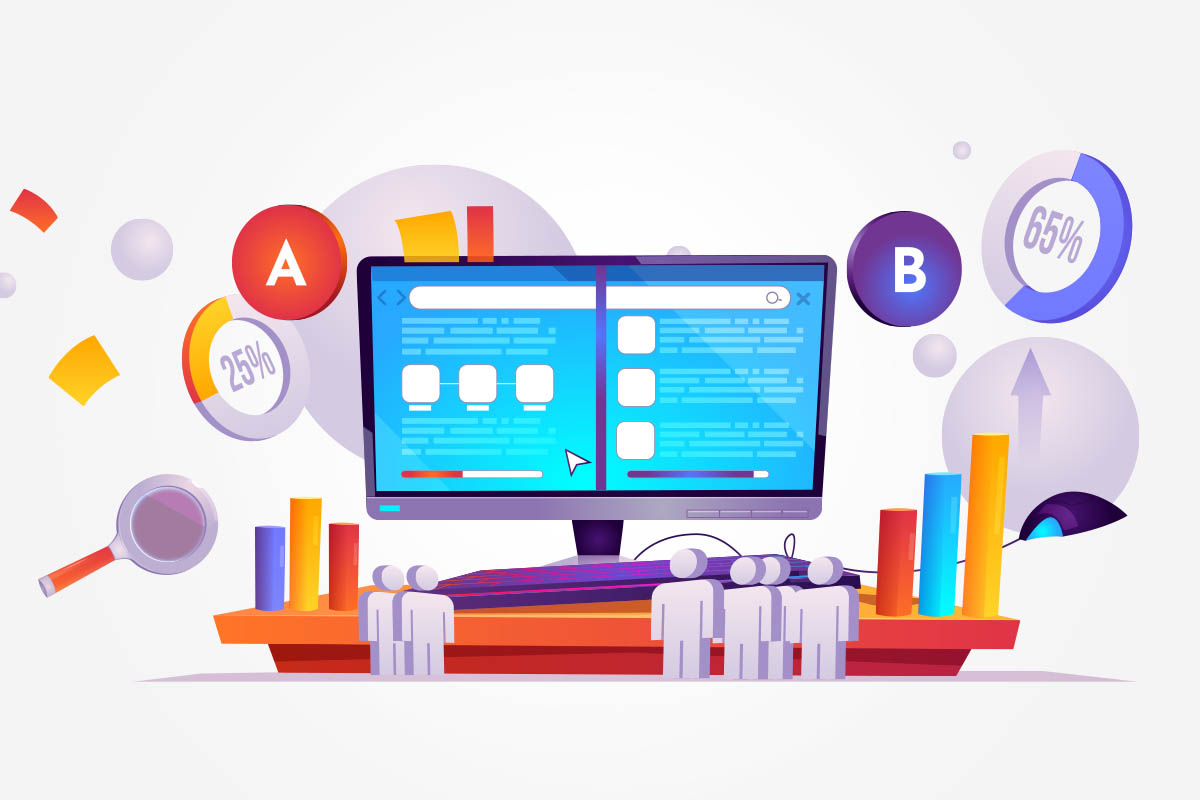 28 Apr

Facebook Ads 101: Split Testing

Ready to start advertising on Facebook? The success or failure of a Facebook Ad can depend on a number of things. More budget does not mean more results. Split testing is key to a more efficient ad spend so you can maximize your budget. Before allocating your campaign budget to ads, make sure to perform a test for at least 7 days to see which one will get the result you want to achieve.
1. WHAT ARE SPLIT TEST ADS?
The idea behind this test is that by changing one variable element and retaining the others, we can accurately pinpoint the reason of the success of the ad by directly correlating the result with the element we changed for every ad.
Like an A/B test, split testing allows you to create multiple ad sets and test them against each other to see which strategies produce the best results. For example, you can test the same ad on two different audiences to see which audience performed better. Or, you can test two different creative assets (e.g. images or videos) to determine which is more effective.
A split test divides your audience into random, non-overlapping groups. This randomisation helps make sure that other factors won't skew the results. Each group will receive ad sets that are identical in every way aside from the variable you've chosen to test. The variables are: creative, audience, delivery optimisation and placement. Facebook measures each ad set's performance against your campaign objective. The ad set that performs the best wins. After the test ends, you'll receive a notification about the winning strategy. These insights can then fuel your ad strategy and help you design your next campaign. (Facebook for Business)
The following steps demonstrate how to create your split test ad. The excerpt below is based on Facebook for Business.
2. HOW DO YOU CREATE YOUR FIRST SPLIT TEST?
Step 1. Go to Ads Manager, click the green "Create" button, and choose a campaign objective.
Step 2. Once you have chosen an objective, select Create Split test on the next pop up.
Step 3. Select the variable you want to test. Choose only 1 variable at a time.
Ad Copy: Which images, videos, text, headlines or call-to-action (CTA) buttons perform best?
Audience: Which types of people are more likely to respond to your ads? You can create audiences and compare interests, gender, age, or even custom audiences.
Placement: WHERE you want the ads to appear. Which platforms (for example, Instagram or Facebook) are most effective for a given ad, and where should you show them on each platform (Stories or feed)?
Note: Campaign budget optimisation and split test can't be used together at this time.
We will select Creative for this example and Continue.
You can create the ads as you normally would, just make sure to upload a different Ad Creative or Ad Copy of each of the split ads.
Alternatively, you can also create a split test ad from an EXISTING ad. To do this, click EDIT on an existing ad. Alternatively, you can also create a split test ad from an EXISTING ad. To do this, click EDIT on an existing ad. This step is done if you want to edit an existing ad and test if the changes you made were effective in terms of performance. So you are split testing your original ad with the adjusted ad.
To create a split test when you edit an ad set:
Go to Ads Manager.
Hover over the ad set that you want to edit.
Select Edit.
Edit your ad set.
Next, look for the Want to test changes? box in the top-right.
Select Create test, and then Confirm.
The test will begin when you publish your changes.
Another method of split testing is to DUPLICATE and EXISTING active ad. If you don't want to add a split test to an active ad set, you can duplicate an existing ad set instead.
To duplicate an ad set:
Select an active ad set, then select Duplicate.
Select Create a test to compare a new ad set to your original ad set.
A new copy of your ad set will be created for you to edit.
If your test variable is creative, leave the duplicate ad set as is. Publish the new ad set when you're ready.
If your test variable is audience, placement or delivery optimisation, make the appropriate changes to the new ad set. Everything else can stay the same. Publish the new ad set when you're ready.
You can edit or cancel your split test. If you cancel your split test, your campaign will continue to run.
3. HOW DO YOU INTERPRET THE RESULTS?
How do you know if the split ad is performing well? Under "View Results", you will able to see the following.
Cost per results for each ad set or ad for creative tests.
Confidence level to see how likely it is that you would get the same results if you ran the test again.
Winning ad set, which is the ad set that performed best.
4. WHAT HAPPENS ONCE YOU HAVE A WINNING AD SET?
The winning ad set is the ad set that performed the best. Facebook determines the winning ad set by comparing the cost per result of each ad set or ad based on your campaign objective. Based on the information from your test, Facebook simulates the performance of each variable tens of thousands of times to determine how often the winning outcome would have won. Once you've reviewed your results and understand which strategy performed best, you can:
Create a new ad from the winning ad set. Select the link in the results email.
Reactivate the winning ad set in Ads Manager.
Create a new campaign based on what you learned.
Testing allows the business to control their ad spend, limit loss from failed ads, and improve the efficiency of the winning campaign. Once a winning campaign or ad has been determined, businesses are free to scale, by adding their full advertising budget to that campaign. Contrary to popular belief, split testing does not increase your budget, in fact it will ensure that the same intended budget will be better spent on the results you want. Eventually, by finding the winning campaign, you will notice better returns on your ad spend and this will even lower your overall ad budget since you are focused on ad quality rather than quantity.
Facebook Ads are notorious for its steep learning curve. With regular updates to the Ad Platform, changing features, and lets be honest, not so user-friendly layout, keeping up with the latest tools, trends and technicalities may be too tedious and time consuming for an already-busy entrepreneur. Our Social Media Marketing service ensures that while we manage your social media for you, you will be able to focus on running your business instead. Get in touch with us to get a FREE ASSESSMENT!